Every person has the right to fair pay and a fair go in the workplace.
The Community Action Network is committed to empowering volunteers and organisers to support Labor's fight for workers and their workplace.
OUR LABOUR STORY
Since 1891, the day a group of shearers met under a ghost gum in Barcaldine to organise for better wages and conditions, Labor has been the party of working Australians. Today, Labor is still fighting to protect those wages and conditions and creating the local jobs Victorian families depend upon.
WE CAN'T DO IT WITH OUT YOU
It was Labor governments supported by people like you that stood up for workers and introduced legislation for ground-breaking reforms like superannuation, penalty rates, weekends, annual leave, equal pay for women, workers' compensation, health and safety. These conditions weren't granted by employers out of the goodness of their heart – organised workers had to fight for it.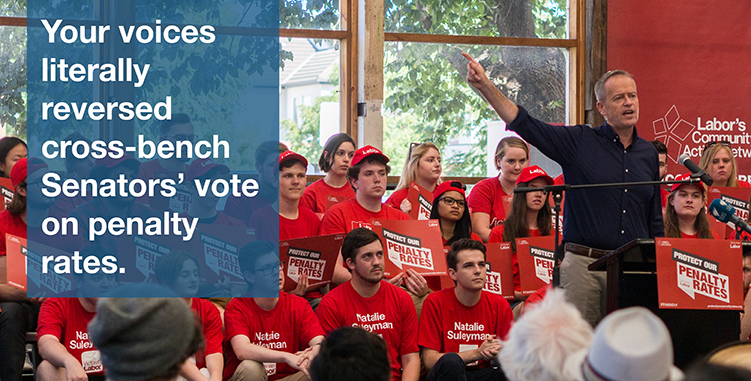 PROTECT OUR PENALTY RATES
When the Liberals were last in power, they cut the weekend working conditions of more than 700,000 of Australia's lowest paid workers. The Community Action Network needs people like you to mobilise and join our grassroots campaign to protect these workers against the Liberals' unfair cuts to penalty rates. For many of these workers, it's a pay cut they just can't afford.
YOUR VOICE CHANGED THE SENATE
Our Community Action Network volunteers have already organised and pressured the Senate into supporting Labor's legislation to protect penalty rates. Your voices literally reversed cross-bench Senators' positions. But more remains to be done, and until this legislation passes the House of Representatives, workers will be struggling to cope with this unfair paycut.
We win this fight house by house, street by street. Our collective voice is more powerful than any television commercial.
KEEP UP THE PRESSURE
Labor's legislation to protect the penalty rates of our lowest paid workers is now before the House of Representatives. Victorian Liberal MP's have the power to support Australian workers by voting for Labor's bill. Your voice is powerful. Call these vulnerable MPs and demand they protect our penalty rates.