The Women's Organising Network is organising to deliver wins for women in Victoria and across the country.
FINISH WHAT WE STARTED
Victoria has a proud history of the women's movement leading from the grassroots to bring about change. From suffrage activists in 1884 fighting for women's right to vote to women campaigning for legal recognition for our rights to our bodies and Rosie Batty joining with other community leaders to demand action on family violence, none would have succeeded without women like you speaking up. 
OUR WOMEN'S ORGANISING MOVEMENT
Today, CAN's Women Organising Network is committed to continuing this tradition by empowering women volunteers and organisers to continue the fight for women's social, political and economic equality in Australia.
"We cannot succeed when half of us are held back."
– Malala Yousafzai
Labor is part of this tradition of advancing the rights of women in this country. Only Labor governments have delivered no fault divorce, the paid parental leave scheme and most recently has committed funding at a state level to shine a light on family violence in Victoria.
Labor has also committed to delivering equal representation in parliament by 2020 so our representatives better reflect our community. The Women's Organising Network works to give every woman the opportunity to speak up, be it on a doorstep or in parliament.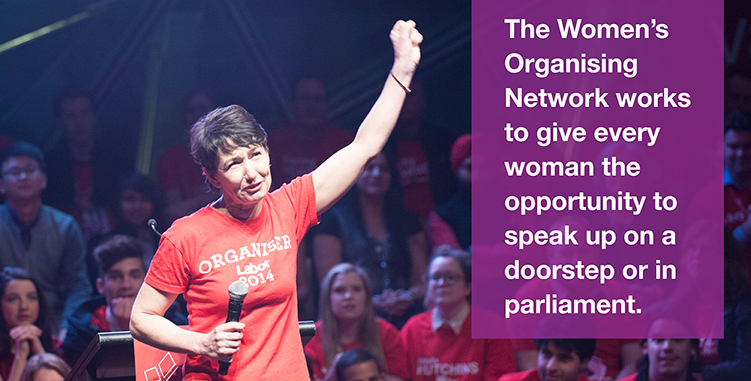 WOMEN'S RIGHTS. HUMAN RIGHTS. EQUAL RIGHTS.
Supporting Labor governments is an important part of that fight. The Women's Organising Network will campaign to protect Medicare, university fees, weekend and public holiday penalty rates, fairer school funding, the Family Law Act and government support to some of the most vulnerable in our communities, a group that is over-represented by women. We will continue the fight for equal pay and accessible childcare for every woman in Australia.
SEXISM IS NOT A SIDE ISSUE
You only need to look at the current federal Liberal National front bench to see that women's voices are being shut out by the Liberal party. And we see it in so many of the Liberals' policies. Weekend pay rate cuts. Attacks on Medicare. Cuts to crucial frontline welfare services. The hardest hit by these policies are women – from all backgrounds.
 "Feminism has fought no wars. It has killed no opponents. It has set up no concentration camps, starved no enemies, practiced no cruelties. Its battles have been for education, for the vote, for better working conditions, for safety in the streets, for child care, for social welfare, for rape crisis centres, women's refuges, reform in the law." – Dale Spender
WHAT'S AT STAKE FOR YOU?
We are organising to deliver wins for women in Victoria and across the country. We need your voice and energy to secure a Labor victory at the polls and in legislation. Our campaign is lead by women organising around policy and issues that are important to them and their families.
"Human rights are women's rights and women's rights are human rights."
– Hillary Rodham Clinton